March Print of the Month Special 16 x 20 Canvas Gallery Wrap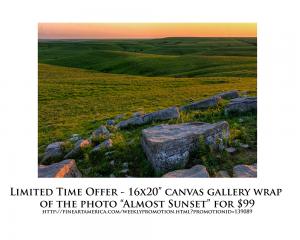 http://fineartamerica.com/weeklypromotion.html?promotionid=139089

I've been wanting to try something like a 'print of the month' deal this year (I'm a little slow getting this started!) so here goes my first attempt at this. For a limited time the photograph "Almost Sunset - View From Teter Rock" as a 16x20" canvas gallery wrap for $99...over 50% off the normal price for a similar sized canvas gallery wrap. This promotion will run until 3/14/14 or until 20 pieces are sold.

I thought this was a nice spring image to start this off with, especially with the beautiful weather today!