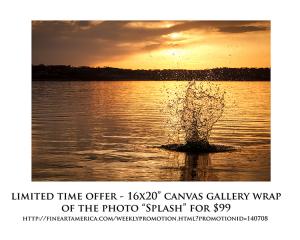 http://fineartamerica.com/weeklypromotion.html?promotionid=140708

It is time for the April 'print of the month' (no fooling!) …. for a limited time the photograph "Splash" is available as a 16x20" canvas gallery wrap for $99...over 50% off the normal price for a similar sized canvas gallery wrap. This promotion will end April 6th.

When I originally shared this image on Facebook, I asked the question why it was so fun to throw rocks in the water. A couple of people replied that it kept us young at heart. I thought that was great and a good reminder to make sure you incorporate some play into your life. Hopefully this photograph will serve as a reminder to occasionally make time to throw rocks in the water!